How to Organise Your Life Using Planners
We all have goals and dreams we want to achieve. However, they can only be achieved with consistency and discipline. Staying focused and organized is the key to achieving any goal.
Although, does it get difficult for you at times to work on it and feel demotivated? Has it been difficult for you to manage your time and get things done within a set timeframe?
If you do, you aren't alone. By being more organized, life can be significantly simpler. Planners assist us in achieving this. They are the best tool for planning, keeping track of time, and organizing our life. The advantages of using one are endless.
To stay organized and on schedule, it's important to know how to utilize a planner; this does not happen when you purchase your first one. You may find the thought of planning tedious or boring, but it isn't! Once you get the hang of it, it's fun and life is more organized.
A planner is a useful tool if you want to keep track of your appointments, events at school or work, and other key days. Having everything in one spot gives you the means to manage your day while preventing you from scheduling appointments twice.
We often tell ourselves the biggest lies, such as "I don't need to write it down. I'll keep it in mind or I'll remember. But typically, we don't. Write down everything you need to do, no matter how trivial. Those who are successful keep track of everything that has to be done each day because they have it all in one spot.
The best part of writing everything down is getting to cross things off left and right (other than actually remembering to do it!). Shower? Check! Water the plants? Check! Make a birthday call to your aunt? Check! Crossing tasks off of your to-do list in your planner is satisfying.
Here are a few steps that will enable you to use a planner effectively and form an organized and disciplined lifestyle.
Step 1: Create a Yearly Overview
The first thing to do, once you get a planner is to create a Yearly or at least a Half Yearly Overview. This would include your visions for the year, setting your goals, and marking your academic/professional year, and important days.
This would give you a bird's eye view of the year, and an idea of the things you need to focus on, in order to achieve your goals. Once you've created a Yearly Overview you can plan further along.
Step 2: Create a Monthly Focus
Once your Yearly Overview has been created, make a list of the top 3 goals you want to achieve this month and plan your days accordingly. These monthly goals will keep you motivated and stay on track. Make sure, these goals are achievable. Setting higher, impractical goals can only set you up for failure and demotivate you.
Once these tasks are achieved, you can tick them off your list and create new ones. Also, log in your appointments, meetings, and important days of the month. This can help avoid confusion or double-book yourself. Do not forget to keep some space reserved for yourself and indulge in recreational activities. Overworking yourself would only leave you feeling burnt out.
Step 3: Create a Weekly View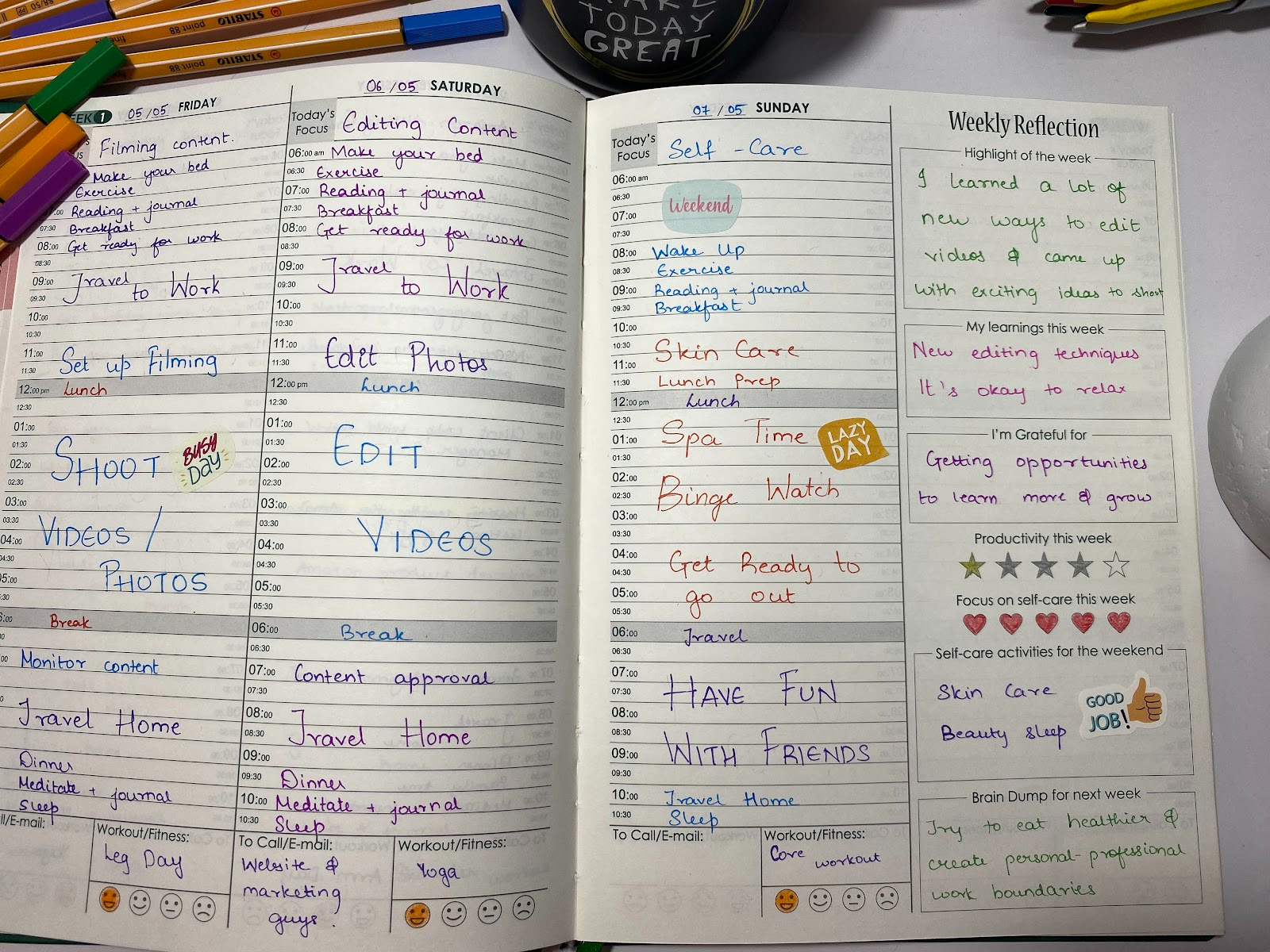 After creating your top 3 goals for the month, divide them into mini-achievable tasks. Once you have created a task list, spread them out throughout the week based on their level of urgency and priority.
If you find it overwhelming, you can make use of the Eisenhower matrix – a method of organizing jobs based on urgency and importance, allowing you to prioritize your most critical work properly. (more details on how to use the Eisenhower matrix will be discussed in future blogs)
Step 4: Create an Ideal Day Template
To make things simpler, map out an ideal day in your planner.
You can include your ideal morning and evening routine. It will give you a glimpse of what your days would practically look like throughout the week and enable you to make changes accordingly. You can put together your to-do list, and leave some space for tasks that might pop up throughout the day. This would make sure that you can always squeeze in some time for urgent/important tasks.
Step 5: Create Actionable Tasks
While planning your day or week, always keep in mind to create actionable tasks, i.e. break your tasks into smaller, simpler tasks to avoid feeling overwhelmed. Often we can feel intimidated by work, making us procrastinate. By breaking them down into mini-tasks, they would feel less daunting and make it easy for us to track our progress.
Step 6: Reflect On Your Day/Week/Month
Setting up goals isn't enough. In order to achieve your goals, it is important to review and reflect on them regularly. You could do it once a week or twice every month. This will help you track your progress and keep you on track. This is a crucial part of planning, as it would enable you to check on your time-wasters and aid you in managing your time better.
Step 7: Build Healthy Habits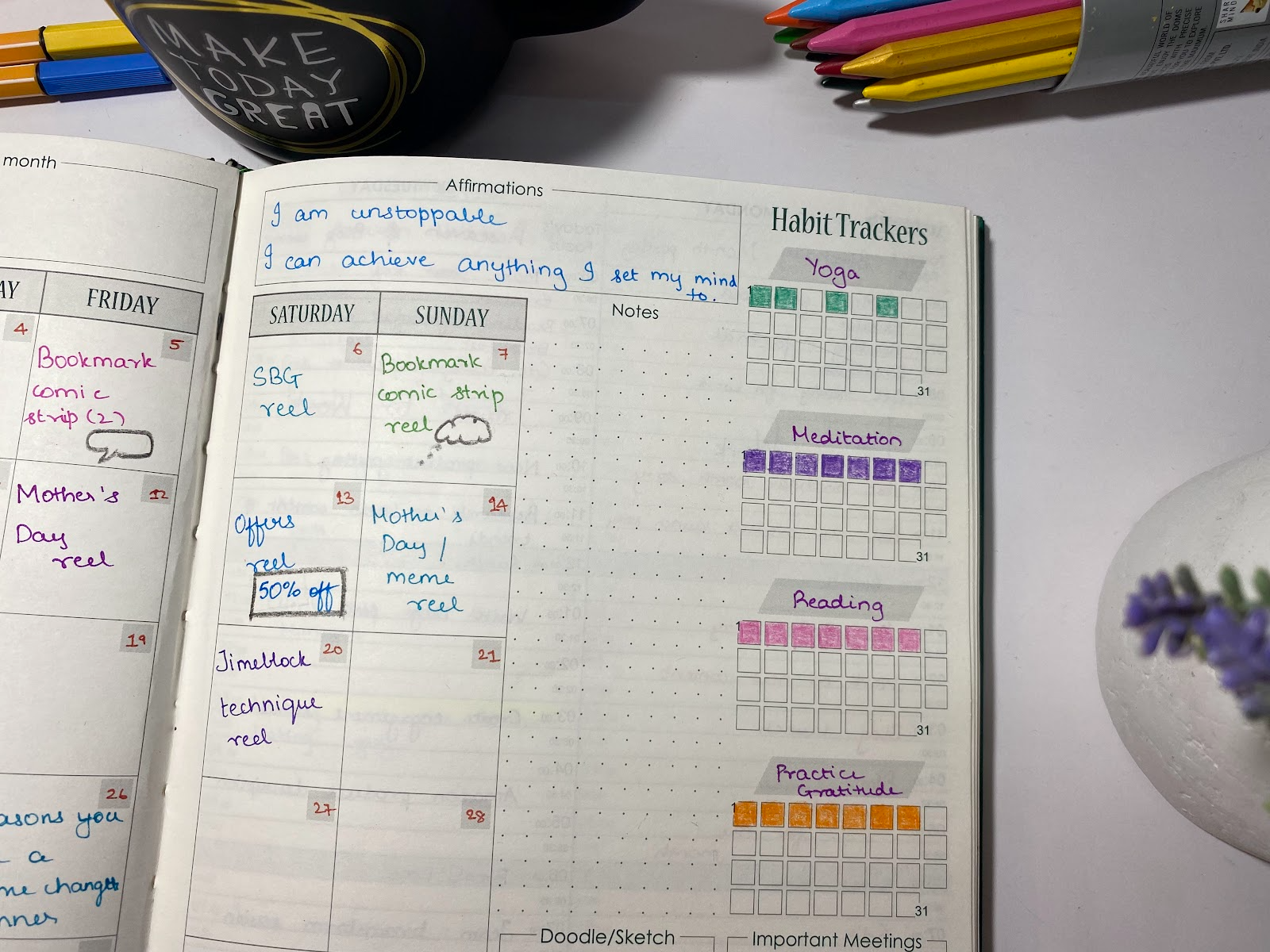 You can use a planner to build healthy habits. Building healthy habits is an important step towards having a disciplined lifestyle. Habits aren't built in a day, so you can use the tracker in your planner to keep track of your progress and enjoy developing new habits. You can have fun with it and improve the quality of your life.
Here's a pro tip that will help you differentiate your tasks easily and get to your tasks easily:
Colour Coding:
Color Coding is used to differentiate your tasks and identify them easily. You can allot different colors to different fields in your life. For example, professional tasks can be Red, personal can be Blue, and family, and friends could be Green. You can further sub-categorize them with different colors based on urgency. This will enable you to spot your tasks clearly and avoid double-booking appointments.
Set Up Your Planner And Life In Order
Planners help you organize your life down to a T. They are not just about scheduling appointments and making to-do lists, but so much more than that. They help you keep track of your mood, habits, time-wasters, finances, etc., and help you reflect on your progress regularly.
Your life will be organized if your planner is organized. You will feel less stressed as a result, and you will have more control over the days, weeks, months, and years to come.
Referring to your planner every day and treating it like your best friend will enhance the quality of your life. It will quickly become a regular part of your day before you know it. Using a planner will significantly reduce the mental strain and tension associated with daily life as you will have all your tasks listed in one place, making it more efficient.
Hope these tips helped you make planning fun and easy. Let us know, if this helped you and if there are any other topics that you would want us to discuss in our future blogs. Good luck and Happy Planning!
You can also reach out to us on:
We thought you'd like our Pins too.